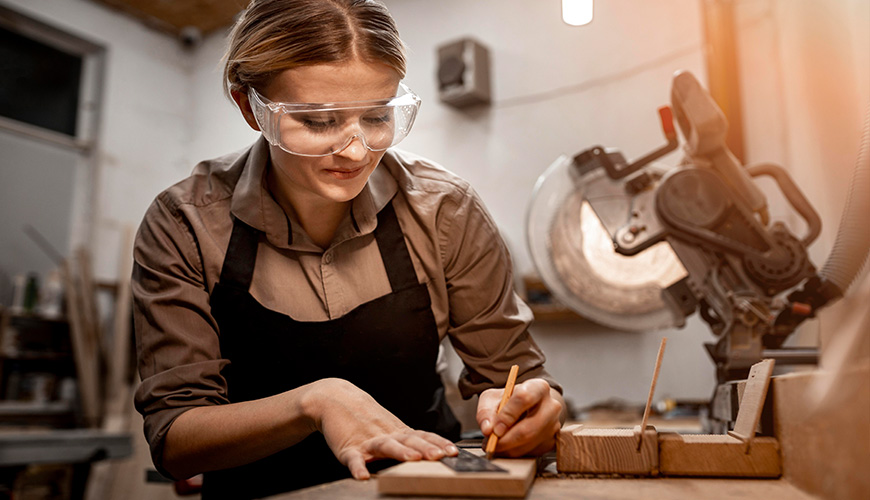 GENERAL COURSE DESCRIPTION
Course Objectives
The main purpose of the training for "Carpenters", level 4 of the AKK, is to develop the personality of the candidates to be included in a democratic society as active and competent citizens, as well as to successfully engage in the ever-changing labor market. Important challenges in achieving this goal are the development of a sense of self-confidence in the candidates, the cultivation of free will in decision making, and the promotion of a willingness to learn throughout life and to develop individually in emotional directions, intellectual and professional. To achieve these goals, it is necessary for the center of competence to give candidates the following opportunities:
Equal access to learning regardless of gender, race, ethnicity, physical or mental ability;
Possibility of developing professional abilities based on knowledge, habits, and attitudes/values adequate to support work and development toward higher vocational education and training.
Conditions for identifying and implementing sustainable development concepts, occupational safety norms, and environmental protection in compliance with international standards;
Opportunities for Carpenters to become acquainted with current and future technology and work procedures in the wood processing sector.
Ease of comprehending the local, national, and regional social and economic environments, as well as awareness of the role they may play in this context.
Assistance in developing discipline, intellectual curiosity, and moral values;
Conditions for mental, emotional, and physical development in preparation for the challenges and problems that would be confronted during future professional activities.
Conditions must be evaluated honestly and realistically in light of their potential and achievements.
Encouragement to assume responsibility for their ongoing personal and professional growth.
Encourage the growth of cooperative and mutual trust through practical work experience.
An opportunity to become familiar with the future developments of their profession, initially in the context of regional and European integration.

At the completion of the "Carpenters" course, the applicant will be able to:
Be professionally prepared for work;
Work with hand machines to cut wood materials;
Use hand machines for milling and decorating.
Sanding of wood materials
Use stationary machines to cut wood
Use static machines for leveling, milling, and turning.
Carry out CNC machine programming;
Operate with CNC machines;
Assemble finished wood products;
Implement ambulant/mobile carpentry services.
Perform administrative and commercial work in carpentry;
Provide environmental and work protection.

GENERAL COURSE DESCRIPTION
Target group for this course while taking into account the characteristics of the profession are candidates of age 16 and over.

The most likely categories that will follow the course are:
Young people of both sexes with compulsory education (primary school).
Young people, with completed secondary education.
Individuals who already have a profession that is not popular or in demand in the current labor market.

Course duration
The course consists of 607 teaching hours, where 1 teaching hour is equal to 45 minutes
Course Program Approval
The program of this course is approved by Autoriteti Kombëtar i Kualifikimeve (AKK).